Allegra Teams (players and supporters)
of the most unusual cricketing event in the calendar,
It is a special kind of game played at the Cricket on Ice tournament, demanding quite a lot from the players. Fast reactions, both physical and mental, in extreme conditions are required for each match, lasting approximately 3 hours. Exciting shots, fast-bowled deliveries, cricket balls flying as quick as arrows, spectacular acrobatic leaps & dives to catch the ball, all combined with the almost elegant use of the bat...welcome to Cricket on Ice!
On Lake St. Moritz, the game is slightly different to traditional cricket. For the safety of the bemused spectators we use a low-impact cricket ball (a traditional leather ball gets wet, heavy and unpredictable on the snow-covered ice).
But beware, due to the high altitude, air resistance is less and the ball travels further in the air.
On behalf of the Cricket on Ice organising committee, enjoy this unique event.
Yours sincerely,
John Hallam
President, St Moritz Cricket Club

We are pleased to welcome the following teams to the 2022 Cricket on Ice Trophy:
Old Cholmeleians XI
Lyceum Alpinum XI
Penguins XI
Touring Cavaliers XI
AID UK CC
St Moritz CC
Date
Time
Activity
 
Wednesday
7pm
Pre-tournament apéro at Hotel Schweizerhof
 
 
Pitch 1
Pitch 2
Thursday
 
Day 1 (group stage)
 
1pm
A1 vs A2
B1 vs B2
Friday
 
Day 2 (group stage)
 

10am

1pm

A3 vs A2

A1 vs A3

B3 vs B2

B1 vs B3
Saturday
 
Day 3 (Finals day)
 
10am
3rd GA v 3rd GB
2nd GA v 2nd GB
 
1pm
Winner GA v Winner GB
 
7pm
Tournament Dinner at Hotel Steffani
All matches are of a Twenty20 format and respect the international MCC laws of cricket except where specified in the Cricket on Ice tournament rules.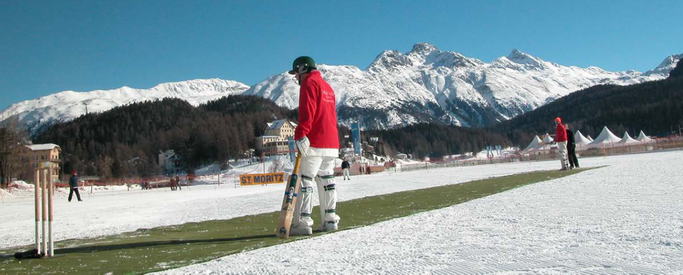 The organiser will provide coloured fleeces & COI woolly hats for each team, but otherwise cricket whites are requested.
Players are recommended to bring pimpled cricket shoes, thermals and warm gloves.
The organiser will provide cricket equipment and its use is included in the team fee.

St. Moritz is located approximately 200 km from Zurich. Traveling by car takes about 3 hours, by train about four.  A single train ticket costs CHF 75 per person from Zurich airport.
Places of interest in St. Moritz are located within walking distance.
Because of the nature of an outdoor event held in winter, heavy snowfall, extreme temperatures or even rain could jeopardise the matches. The organiser accepts no liability for costs incurred for cancelled matches or a cancelled tournament.

The catering service provided by Hotel Schweizerhof has an excellent range of hot soups, sausages and a dish of the day, plus an assortment of beverages (champagne, tea, coffee, mulled wine, beer & soft drinks) all available for purchase. The catering tent is located in front of the cricket ground, where seating, including a limited number of deck chairs, is available to offer spectators a very relaxed time on the lake.
A complimentary meal ticket & one drink is included in the team fee.
Places for the black-tie tournament gala dinner at the Hotel Steffani are available in advance at CHF 125.- p.p. incl. beverage (cocktail, ½ bottle of wine, mineral water, coffee).
Please note we are only able to accept cash (CHF). No credit cards.
Players are expected to attend the black-tie gala dinner and it is included in the team fee.

Teams are responsible for the organisation & payment of accommodation.
Recommended 4-star hotel:
Hotel Schweizerhof 
Attn: Mr Martin Scherer
Via dal Bagn 54, 7500 St. Moritz
Tel: +41 81 837.07.07
www.schweizerhofstmoritz.ch
Recommended family-run hotel:
Hotel Sonne 
Attn: Petra Bonetti
Via Sela 11, 7500 St. Moritz
Tel: +41 81 833.03.63
www.sonne-stmoritz.ch
Recommended 4-star hotel:
Hotel Steffani 
Attn: Ms Francesca Märky
Sonnenplatz, 7500 St. Moritz
Tel: +41 81 836.69.69
www.steffani.ch
Recommended 5-star apartments:
Kempinski Residences
Attn: Mr. Thomas Markovic
Plazza Paracelsus 2, 7500 St. Moritz
Tel +41 81 833.30.55 M +41 79 744.09.43
www.kempinski-residences.ch
Please contact Brian Strong for details of negotiated rates.
The hotel of your choice will be able to confirm whether a free ski pass and/or free local public transport is included in your rate.
Further information & options available from www.engadin.stmoritz.ch/hotels

A team fee of CHF 3'000 is to be transferred to the St Moritz CC bank account by 1st December.
The team fee includes use of the lake infrastructure, use of cricket equipment, 14 Cricket on Ice fleeces & woolly hats, 14 lunches and one beverage on the ice on all three days and 14 tickets to the black-tie dinner on the Saturday evening.
Cricket on Ice - Team Information 2022
Cricket on Ice 2022 - Team Information.p
Adobe Acrobat Document
684.9 KB
---